Thinking about submitting a fraudulent claim to the MIB? You could find yourself 'claimed and shamed'.
The MIB is here to compensate the innocent victims of uninsured and 'hit and run' drivers who have nowhere else to turn. Unfortunately all too often we see people fraudulently targeting MIB in an attempt to obtain money which they are not entitled to. In fact, in 2015 we detected fraudulent claims to MIB totalling over £22 million.
This week the BBC's popular 'Claimed and Shamed' programme returned to BBC 1 for a new run. Now in its seventh series, the programme plays an important role in shining a spotlight on the issue of insurance fraud. Insurance fraud is often cited as a victimless crime but the reality is very different: it not only hits honest premium-paying policyholders' in the pocket but insurance scams can potentially put the public in harm's way.
Working with Claimed and Shamed we've been able to highlight examples where individuals have tried to defraud the MIB and consequently the honest premium paying policy-holder. So far, three fake claims detected by MIB have featured on the programme. Each claim is different but at the heart is an individual or group of individuals who thought it was perfectly acceptable to make a false claim in the belief that they would get away with it.
Claim 1: An amateur footballer made a £1.35 million claim for serious neck and ankle injuries, memory loss and poor co-ordination but an MIB investigation revealed that he had recovered from his injuries and was well enough to return to playing football and even won the accoldade of 'man of the match'!
Claim 2: A group of fraudsters manufactured seven collisions with buses in Chester after arranging for a number of people to be passengers on the bus and then fake injuries. The passengers then submitted personal injury claims to MIB and the insurance industry totalling over £1 million.
Claim 3: A man denied submitting a false 'hit and run' claim after being injured by his own uninsured vehicle, however fingerprint analysis as part of a police investigation proved he had handled the MIB claim form.
Although there is strict criteria as to who is eligible to make a claim against the MIB, we take seriously our responsibility to settle claims promptly and fairly. Everyone we deal with is protected by our Customer Charter and every claim we receive, regardless of the size and complexity, is investigated thoroughly. Claims range from those which are simple and straightforward to those which are incredibly complex cases sometimes involving multiple vehicles and claimants but we manage all of these with the same promise to treat everyone  with respect and to be open, honest and fair in everything that do.
The consequences of committing insurance fraud against MIB are serious. We will not only reject the claim but there is the very real possibility of facing prosecution which can result in heavy fines, criminal record and imprisonment, and potentially restricted access to financial services. So if anyone is thinking about submitting a fraudulent claim to the MIB, be warned as you could find yourself 'claimed and shamed'.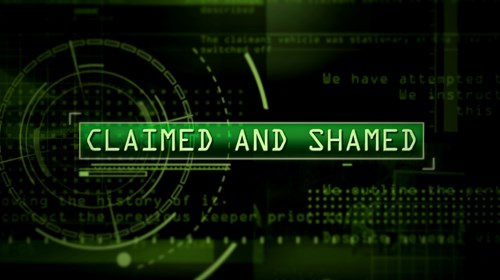 Best wishes
Ashton West OBE
Follow me on Twitter @AshtonWestMIB